All Weather Dump Site for Clean Fill, Inert Waste and Special Materials (Non-Inert Waste)
Clean Fill Materials Dumped Must Be Free Of Petroleum And/or Heavy Metal Contaminants. The Site Is Licensed To Accept Slightly Impacted Special Materials Containing Low Concentrations Of Petroleum Hydrocarbons And/or Metals. These Materials Must Be Analyzed And Demonstrated To Conform To Our Permit Requirements Prior To Dumping. The Acceptance Criteria Are Below.
The Normal Operating Hours Are: Monday – Friday 7:00am To 4:00pm
The Pit Is Permitted To Operate Monday – Friday 7am To 7pm And Saturday 9:ooam To 7:00pm – For approved public works, projects the site has 24Hour 7 Days Operating Hours. The Projects must be approved in advance by the King County DDES.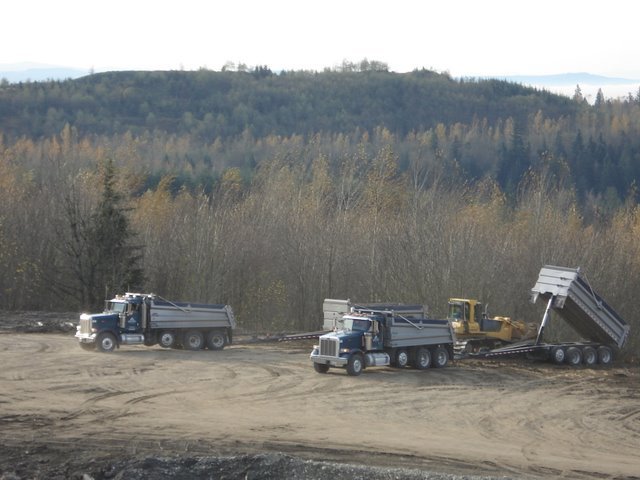 The dump site is located near the "four corners" (HWY 169 (Maple Valley Hwy) and HWY 516 (Kent Kangeley Road)) in Maple Valley – see directions on our Location Page or call Renee.
The dump site is an all weather site with two below grade dump sites. The site can accept the following materials and the tipping charges are set by the truck and trailer (either 7 or 8 axle) – Solo Trucks are half price and Super Solo Trucks are 75% of regular price (93.75 Dry) & (112.50Wet). Tipping charges are for normal hours and subject to change.
| | | |
| --- | --- | --- |
| Materials Accepted | Current Charge | Special Requirements |
| Minimum Dump Charge | $50.00 | Any type material |
| Dry Clean Soil | $125.00 | None |
| Wet Clean Soil** | $150.00 | Loads may be rejected by dozer operator |
| Top Soil with Strippings | $150.00 | Requires Prior Arrangements(Soil Agreement) |
| Concrete and Large Rocks | $150.00 | Requires Prior Arrangements(Soil Agreement) |
| Ground Asphalt | $150.00 | Requires Prior Arrangements(Soil Agreement) |
| Slightly Contaminated Special Soils | $200.00 | Requires Prior Arrangements(Soil Agreement) |
**Due to filling of the lower pit the site can no longer accept wet clean soil during the rainy season. For limited loads. 
*Prior to using this site, a customer is required to sign the Company's Standard Operating Agreement and Clean Soils Affidavit. Arrangements for time of delivery, type of material, and quantity must be made in advance. Please contact Pete Cawlfield or Renee Robison at 425-432-1241 to make these arrangements. Good communication with us saves lots of confusion and misunderstandings.
ACCEPTANCE CRITERIA AND PROCEDURES FOR NON-INERT MATERIALS THAT CONTAIN LOW CONCENTRATIONS OF PETROLEUM HYDROCARBONS AND/OR METALS.
Use the DECISION TREE to determine if the non-inert material is acceptable for disposal at RSIL. Any non-inert material as defined in the Solid Waste Handling Standards for inert waste landfills regulations (WAC 173-350-990) requires waste characterization sampling prior to disposal. Characterization samples of the material should be collected at a frequency consistent with Washington State Department of Ecology Guidance for Remediation of Petroleum Contaminated Sites. Samples will be collected at a frequency in accordance with Table 6.9 (Page 59) of the guidance.
Maximum contaminant concentration limits are listed below:
Soils may be accepted at the Reserve Silica Inert Waste Landfill which do not contain contaminants in excess of the limits listed below in the following table: (Note: Soils accepted under these standards must be located/placed above the water table.)
| | |
| --- | --- |
| Contaminant | Limit |
| Arsenic | 20 mg/kg |
| Lead | 50 mg/kg |
| Cadmium | 2 mg/kg |
| Chromium VI | 19 mg/kg |
| Chromium III | 2000 mg/kg |
| Mercury (inorganic) | 2 mg/kg |
| Gasoline Range Organics | 30 mg/kg |
| Diesel Range Organics | 200 mg/kg |
| Heavy Fuels and Oils* | 200 mg/kg |
| Mineral Oils | 200 mg/kg |
mg/kg = milligram/kilogram
*This does not include waste oil contaminated soils which should be disposed of in a lined landfill.
Any inert materials not in compliance with County, State and Federal inert fill regulations will be removed at the expense of the delivery party and the owner of the source of the materials